Bringing Hydration to Every Corner
Collaborating closely with the States, the Government of India, and governments of several other nations, MEIL embarked on an incredible journey to build extensive infrastructure that would cater to the drinking water needs of both rural and urban communities. Our story of impact and transformation resonated worldwide. Our projects became landmarks of progress, ensuring that clean water was no longer a privilege but a fundamental right.
Delivering Excellence, Every Time
The Mission Bhagiratha project stood as a landmark achievement, benefiting millions in Telangana. As a part of this project, we have completed the Gajwel water grid- the biggest water grid, ahead of time. Prime Minister Narendra Modi inaugurated this on 7 August 2016. We have also executed the Gajwel Drinking water extension works, and drinking water projects in Kamareddy, Nalgonda, Tenali, Guntur, and Kakinada, and many more projects.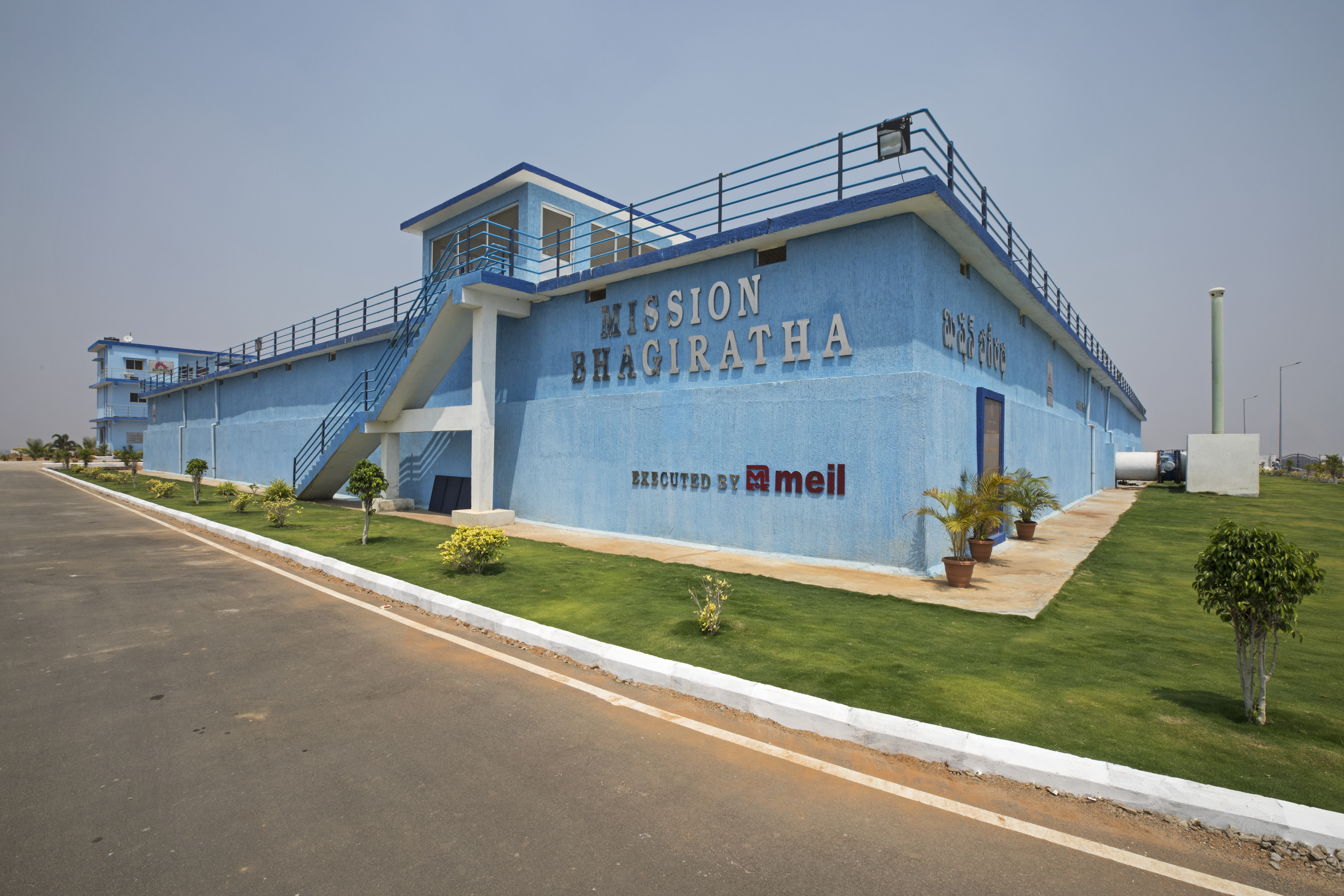 Hyderabad, a bustling metropolitan city, had long yearned for a sustainable water solution. MEIL answered the call with the Godavari drinking water scheme, housing Asia's largest water treatment plant. Under this project, water has been lifted from Sripada Sagar Yellampally under the Kaleshwaram scheme and supplied to this region. 
Supplying Wave of Wellness 
Addressing the rise in kidney-related diseases within the Uddanam, MEIL took up the drinking water project to bring relief to the region. It aims to provide 100 liters per day per head to over 6 lakh people by 2030. Under this project, 1.2 TMC water will be lifted from the Vamshadhara River to the reservoir and supplied to 809 habitations. We have constructed an 84 MLD water treatment plant and 571 Overhead tanks along with the intake well & reservoir and the project is ready to commence. 
Transforming Lives Across States
Upon expanding our reach, we continued to adhere to the highest quality standards, creating drinking water systems that would stand the test of time. We executed many remarkable projects in various states including Andhra Pradesh, Karnataka, Odisha, Gujarat, Rajasthan, Uttar Pradesh, Bihar, and Tamil Nadu. 
MEIL executed its first water grid in Gujarat and next in Telangana. In the newly formed state, out of 26 water grids, 15 were performed by MEIL. Implementing drinking water in the overall Telangana is the first of its kind.
Currently, we are delivering 100 liters per day per head in rural regions and 150 liters per day per head in urban areas of Telangana. For this, the government has laid a significant part of the 5,000-km-long pipeline, a 50 thousand km-long distribution pipeline for villages, and for supplying the water to doorsteps, a total of 75,000 km-long pipeline is laid. Which most of the works are been done by MEIL.
We have completed multiple drinking water projects across India, including Nellore, Agra, Charajnagar, Gundulpet, Ariskere, Adichunchunagiri, Sauni Yojana, Khadana and NMDC in Chattisgarh completed and those have been running them successfully. MEIL didn't just build water systems; we made a better standard of living for people.
Turning the Tide
MEIL's impact extends beyond India's borders. Under the Kauni Yojana, after completing the project the company will be provided water from the Narmada River to the Kutch region, with adjacent double pipelines of a 2.65-meter diameter. 
In Odisha's state capital the Bhubaneswar bulk water supply project, seven massive reservoirs were constructed from 225 KL to 2,250 KL. An intake well, pumphouse, 4 Ground Level Service Reservoirs, and two water treatment plants of 69 MLD & 89 MLD capacity with a 220-km-long pipeline were constructed for this project. 
MEIL's work in Maharashtra's Akole DWP and Kolhapur Water Supply Scheme empowers rural communities with reliable access to clean water through a 10 MLD water treatment plant.
From Scarcity to Abundance
MEIL's impact was not confined to India alone. We ventured abroad, collaborating with governments and communities in Dar–es–Salaam, Tanzania, Rwanda & Zanzibar to provide clean drinking water where it was desperately needed.
The innovative approach, powered by modern technology, ensured that irrigation and drinking water supply remained reliable for decades. MEIL has built a formidable track record of delivering high-quality projects on time, earning the trust and respect of communities across India and worldwide.
Pouring Progress through Pure Promise
MEIL's dedication to using innovative technologies and sustainable practices has been a driving force behind its success. The company has become an expert in water grid projects across India, completing about 15 water projects in just one year and benefiting over millions of people. Our legacy is never just about construction; it is about adherence to quality standards, completing projects ahead of schedule, and providing purified drinking water to millions.