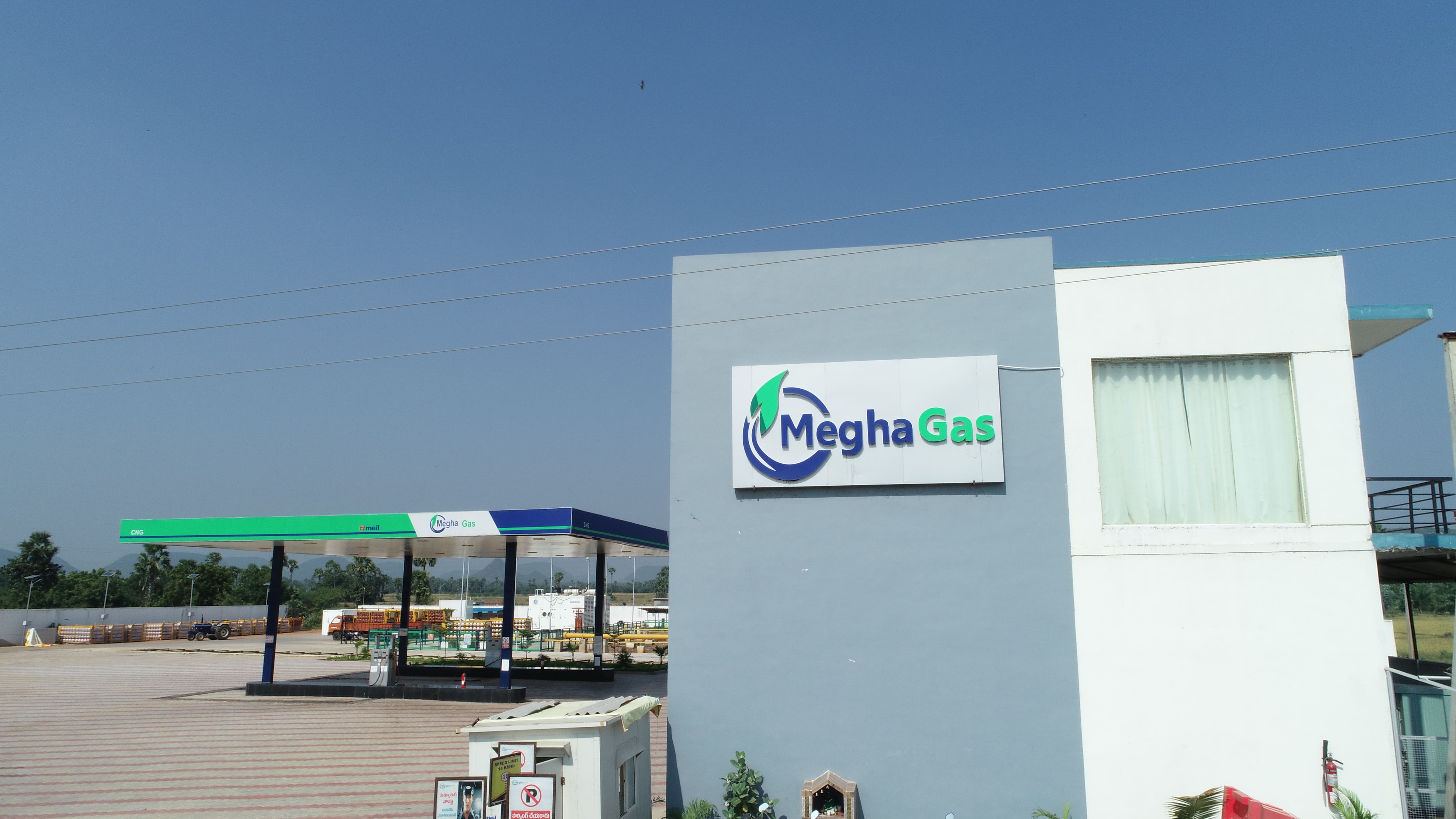 Megha Gas
Megha Gas, a subsidiary of MEIL, launched operations across India under the 'Green Fuel-Clean Fuel' slogan. It supplies green fuels such as Piped Natural Gas (PNG) for domestic, commercial, and industrial consumers and Compressed Natural Gas (CNG) for vehicles by establishing CNG stations. It employs eco-friendly processes in its operations. These green fuels have helped maintain and stabilize carbon footprints in modern times while improving people's living standards in rural and urban areas. 
City Gas Distribution 
The Government of India initiated the City Gas Distribution (CGD) project to reduce India's carbon footprint. The CGD allows access to cleaner fuels and creates green corridors. Megha Gas is instrumental in enhancing the ecological balance and improving the quality of life. It has been awarded 22 geographical areas (GAs) auctioned by the Petroleum Natural Gas Regulatory Board (PNGRB) across 62 districts in 10 states, a remarkable achievement. Another feather in its cap was in the 11th round of bidding, conducted by the PNGRB; it bagged 15 GAs, the highest number of CGD projects. 
The CGD works are ongoing in 10 states namely Andhra Pradesh, Telangana, Karnataka, Tamil Nadu, Punjab, Uttar Pradesh, Madhya Pradesh, Odisha, Maharashtra, and Rajasthan. As of now, 83 CNG stations were commissioned across the country and 180 stations are under construction. 
As part of the CGD project, the company is establishing Compressed Natural Gas (CNG) stations, City Gate Stations (mother stations), and laying a gas distribution pipeline network. Its gas stations operate in Andhra Pradesh, Telangana, Karnataka, Tamilnadu, Punjab, Uttar Pradesh, Odisha, and Madhya Pradesh and cater to industrial and transport requirements. Currently, it is pricing for green fuel is the lowest. It set up the largest CNG station near Rajiv Gandhi International Airport, Shamshabad in Hyderabad.
The MEIL's manufacturing plant manufactures high-standard steel and MDPE (medium-density polyethylene) pipes for the CGD network. For the supply of PNG to households, the company is providing connections through reticulated gas pipelines.
Pipeline Laying 
It laid a standard pipeline in 11 regions in Karnataka. In Bengaluru and Belgaum, the company already supplies gas to residential areas and for commercial purposes. In Telangana, it has built an extensive pipeline network covering 12 districts. It also lays the pipeline and constructs the gas gathering stations in the remaining geographical areas mentioned by PNGRB. 
Benefit
Megha gas services will benefit the CNG and PNG Customers in 62 districts across the 10 states of India.
Project Status: Ongoing